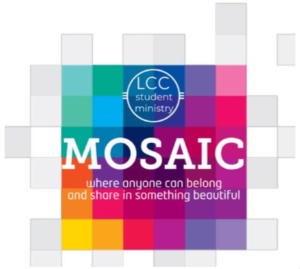 WHERE ANYONE CAN BELONG AND SHARE IN
SOMETHING BEAUTIFUL.
We all have an intrinsic desire to be loved and accepted.
We seek to meet that need by encouraging students to
follow Christ in a world that often rejects Him and welcome
others in a world that often rejects them. We would love
for your middle and high school students to join us!
I'm Josh Cox – Youth Minister
josh@lilburnchristianchurch.org
Welcome to Mosaic!
A lunch for all Middle/High Schoolers ESPECIALLY 6TH GRADERS and their families
We hope to begin scheduling in-person youth group events soon! One of the first things we plan to do is welcome our new 6th graders. So stay on the lookout for updates!
Wednesday's starting Nov 9th
This is a three week trial to gauge whether participation is better in-person or online. In an effort to protect our children, we'll be practicing social distancing, wearing masks, and taking temperatures. We completely understand if you are hesitant to be around others, so you can also participate via Facebook Live.
Aug 17, 2020

Jesus and the Resurrection

Aug 11, 2020

Jesus and the Storm

Aug 4, 2020

Paul and the Venomous Snake

Jul 28, 2020

Elisha and the Arameans

Jul 21, 2020

Samson and His Fire

Jul 13, 2020

Balaam & His Donkey

Jul 6, 2020

Philippians 4:10-23 (Ashley Cox)

Jul 1, 2020

Philippians 2:9

Jun 23, 2020

Philippians 3:12, 4:1 (Ashley Cox)

Jun 13, 2020

Philippians 3:1-11

YOUTH INSTAGRAM
Join us Wed and Sunday!
Invite a Friend!

YOUTH FACEBOOK
Youth Photo Gallery
Click here