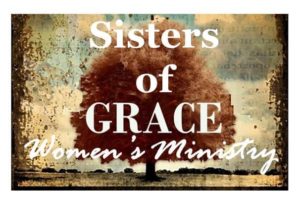 Women's Ministries
"She opens her mouth with wisdom and the teaching of kindness is on her tongue." Proverbs 31:26 NKJV"
Open to women of all ages, Sister's of Grace Women's Ministry encourages women to develop more meaningful relationships with our Lord Jesus Christ, with women in our community and with the women of our church.
We pray for one another and provide fellowship at various events throughout the year. See our "Events" section on the Home Page of the website for upcoming activities!
If you need more information, or even if you are just curious, please call one of our Leadership Team members:
We would love for you to attend one of our events!
Feel free to contact the church office (770) 921-2993 for information!

B.A.S.H. Book and Salad Hour
Save the dates!
July 16h- Time to Embrace by Karen Kingsbury (Fiction)
July 30th Hiding in the Light by Rifqa Bary (Non Fiction)
Books will be read ahead of time and discussed on the dates above. Books are on Amazon.com for $7.00 or let Cathy Wade know and she'll order you one!
REGISTER IN THE FOYER

Register for this in the church foyer or call the church office! (770) 921-2993