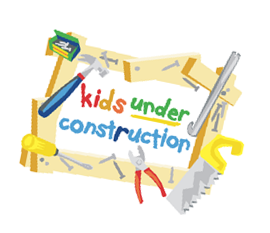 "
K
I

D

S

UNDER

CONST
R
UCTION

"
"Building God's Kingdom One Child at a Time"
Nursery through 5th Grade
"Kid's Under Construction" or "KUC" is the Children's Ministry of Lilburn Christian Church.
All children, from birth to 5th grade, are welcome and encouraged to be a part of this great ministry.
I Peter 2:5 says, "We are being built into a spiritual house". Here at Lilburn Christian Church we are committed to helping raise these young people into the house God wants them to be.
We stand by the Scripture in I Corinthians 3:11 that states "No one can lay any foundation other than the one already laid, which is Jesus Christ
".
We understand that every building needs a firm foundation, and the one we lay is Jesus.
Building God's Kingdom takes a lifetime, and we are proud to be laborers through
"KIDS UNDER CONSTRUCTION".
We have kids programs on Sunday and Wednesday with lots of
special activities in between! Look below for our "work schedules"
Thank you for the opportunity of letting us teach your children. It's a responsibility we don't take lightly!
We have kids programs on Sunday and Wednesday with lots of
special activities in between! Look below for our "work schedules"
If you are interested in helping with the children's ministry, please contact Ms. Allison at
allison@lilburnchristianchurch.org
770-921-2993 ext 24
We have great programs for Kids!
Kids Under Construction
Christmas Party!
W

ednesday Dec 19th at 6:30
All Kids up through 5th grade
Join us Sunday's as we continue to learn
about Obedience
We are learning how obedience brings blessing, obedience brings suffering, and obedience prepares us for holiness! We as a class are beginning to see how obedience is a theme through the whole bible and how important it is for us to be obedient to God.
WEDNESDAY NIGHTS
We are continuing through our
Believe series.
The first 10 weeks we studied topics that Christians believe we need to think about. Now we are looking at how Christians are supposed to act. We encourage you to extend these lessons to your home. There are many ways you can do this: • Read the weekly Family Page and implement the ideas. (Allison will have copies of the take home family page each week. If you are interested in receiving this, please grab one off the KUC counter when you pick your children up each Wednesday.)
KUC Work Schedules
The Safety and Security of your children are very important to us. Because of that, we ask that all parents check their child in at the Security Entrance/Information Center
.
Please note that all of our volunteers have undergone criminal background checks.
Thank you for this opportunity to labor with you in the construction of your child. If you have any questions, concerns, prayer requests, or need further assistance, please contact Allison McAlister at 770-921-2993 or
allison@lilburnchristianchurch.org.